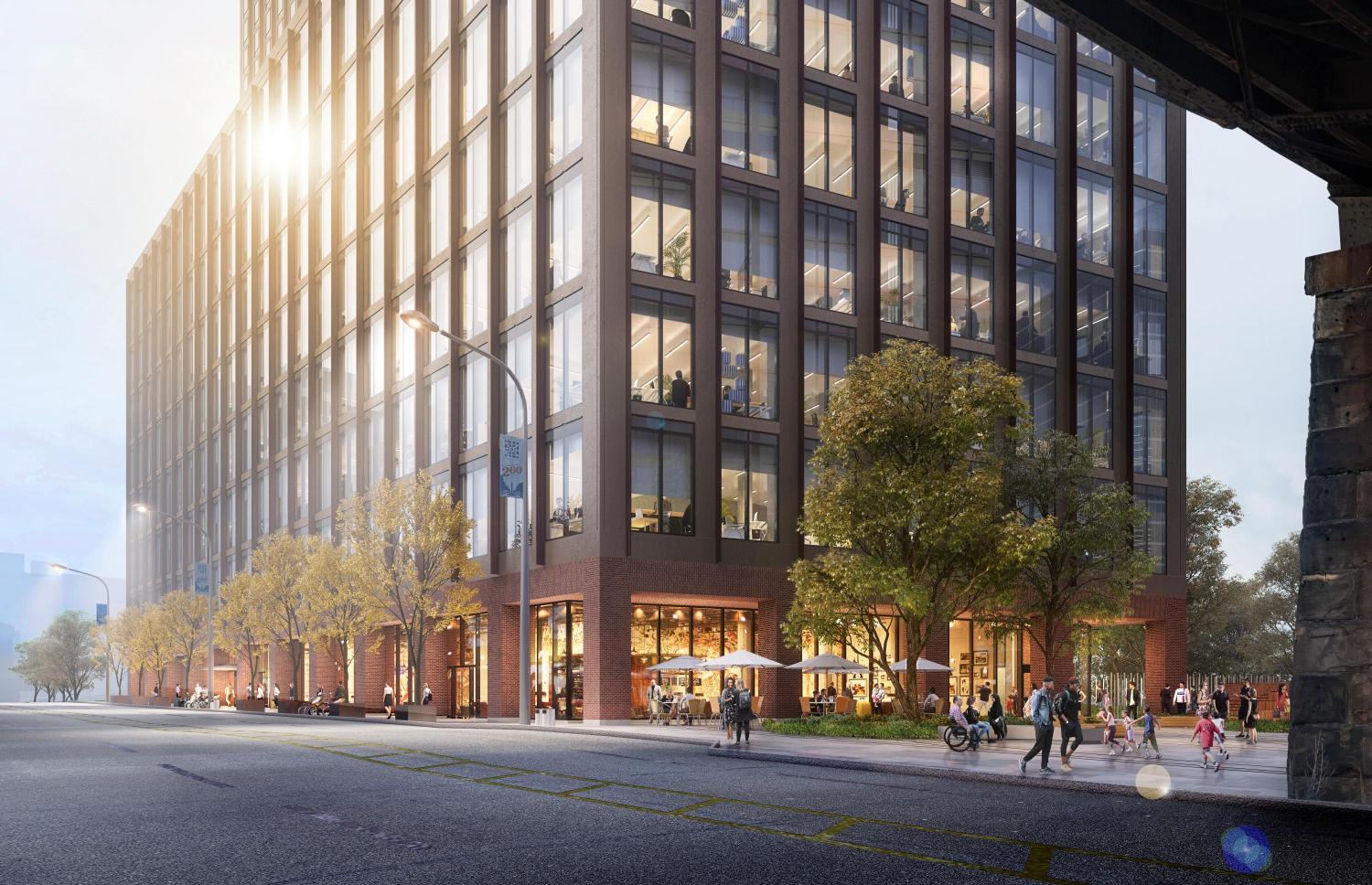 Global Law Firm Goodwin Signs Lease at 3025 JFK Blvd in Schuylkill Yards
Global Law Firm Goodwin Signs Lease at 3025 JFK Blvd in Schuylkill Yards
Philadelphia, PA – September 7, 2023 — Global law firm Goodwin announced today that it has signed a lease as a lead tenant at 3025 JFK Blvd in Schuylkill Yards, a master-planned neighborhood in the heart of Philadelphia's University City. The firm will relocate from its current space at One Commerce Square in early 2024. The move follows Goodwin's launch in Philadelphia in January with a premier group of Life Sciences, Healthcare, Private Equity, and Complex Litigation & Dispute Resolution practitioners.
"Goodwin's strategy of serving clients within the healthcare, life sciences, private equity, real estate, technology, and financial services sectors, and where they converge, has resonated loud and clear in the Philadelphia market," said Barbara Shander and Rachael Bushey, co-chairs of Goodwin's Philadelphia office. "With the move to 3025 JFK Blvd, we are expanding our footprint in the city for the benefit of our current and future clients doing business at the intersection of capital and innovation, and for the benefit of our talent – our lawyers and business professionals – who will have a modern, collaborative, and innovative office space to call their home base."      
Goodwin's new space encompasses 31,500 square feet of the entire eighth floor and a portion of the seventh floor at 3025 JFK Blvd, otherwise known as the West Tower. The 28-story mixed-use property offers 200,000 square feet of workspace, a 29,000-square-foot indoor-outdoor amenity floor, 18 floors of luxury residential, 9,000 square feet of ground-floor retail, and the newly completed High Line Park. The building is the first ground-up project to be completed in Schuylkill Yards, a 14-acre transit-oriented neighborhood master-planned and developed by Brandywine Realty Trust in partnership with Drexel University. Located adjacent to Amtrak's 30th Street Station, Schuylkill Yards will ultimately deliver 6.5 acres of vibrant parks, 1.5 million square feet of living space, 3.9 million square feet of dynamic life science and office spaces, and 65,000 square feet of experiential retail.
"Goodwin plays a vital role in connecting capital with innovation. We're delighted to welcome this forward-thinking firm to our Schuylkill Yards community, a place designed for people and businesses to connect, grow, and thrive at the nexus of University City's flourishing life sciences hub and the economic district in Center City," said Jerry Sweeney, president and CEO of Brandywine Realty Trust. "Goodwin's decision to expand their presence in the Philadelphia market and plant their flag in Schuylkill Yards signals the strength of our city's life science ecosystem and the value of being in the heart of it."
Goodwin's Philadelphia office focuses on the life sciences, healthcare, and private equity industries, including where they converge with other sectors such as technology. The team, which includes more than 35 lawyers and business professionals, has extensive experience in high-stakes litigation and dispute resolution, regulatory compliance and advisory services, and complex transactions.
About Goodwin
We are in the business of building authentic, long-term relationships with our clients, who are some of the world's most successful and innovative investors, entrepreneurs, and disruptors at the convergence of and within the life sciences, private equity, real estate, technology, and financial industries. Our immersive understanding of these industries — combined with our expertise across high-stakes litigation and dispute resolution, world-class regulatory compliance and advisory services, and complex transactions — sets us apart. To learn more about our global law firm, please visit www.goodwinlaw.com.
About Brandywine Realty Trust
Brandywine Realty Trust (NYSE: BDN) is one of the largest, publicly traded, full-service, integrated real estate companies in the United States with a core focus in the Philadelphia and Austin markets. Organized as a real estate investment trust (REIT), we own, develop, lease and manage an urban, town center and transit-oriented portfolio comprising 162 properties and 22.8 million square feet as of June 30, 2023 which excludes assets held for sale. Our purpose is to shape, connect and inspire the world around us through our expertise, the relationships we foster, the communities in which we live and work, and the history we build together. For more information, please visit www.brandywinerealty.com. To learn more about Schuylkill Yards, visit schuylkillyards.com.
Stay in-the-know about this news: