About Property
As the first high-rise office tower built in West Philadelphia, Cira Centre is a shining model for this continuously thriving neighborhood. University City, a concentrated area of "Eds and Meds," provides a robust, local talent pool for growing businesses, while newly-constructed Life Science incubator space in Cira Centre provides the platform for companies to seamlessly expand within Philadelphia's innovation ecosystem and Brandywine's national portfolio. With immediate access to multiple transportation options—as well as close proximity to the Schuylkill River Trail, Cira Green, Penn Park, and a growing, local restaurant scene—tenants at Cira Centre can enjoy a great work-life balance.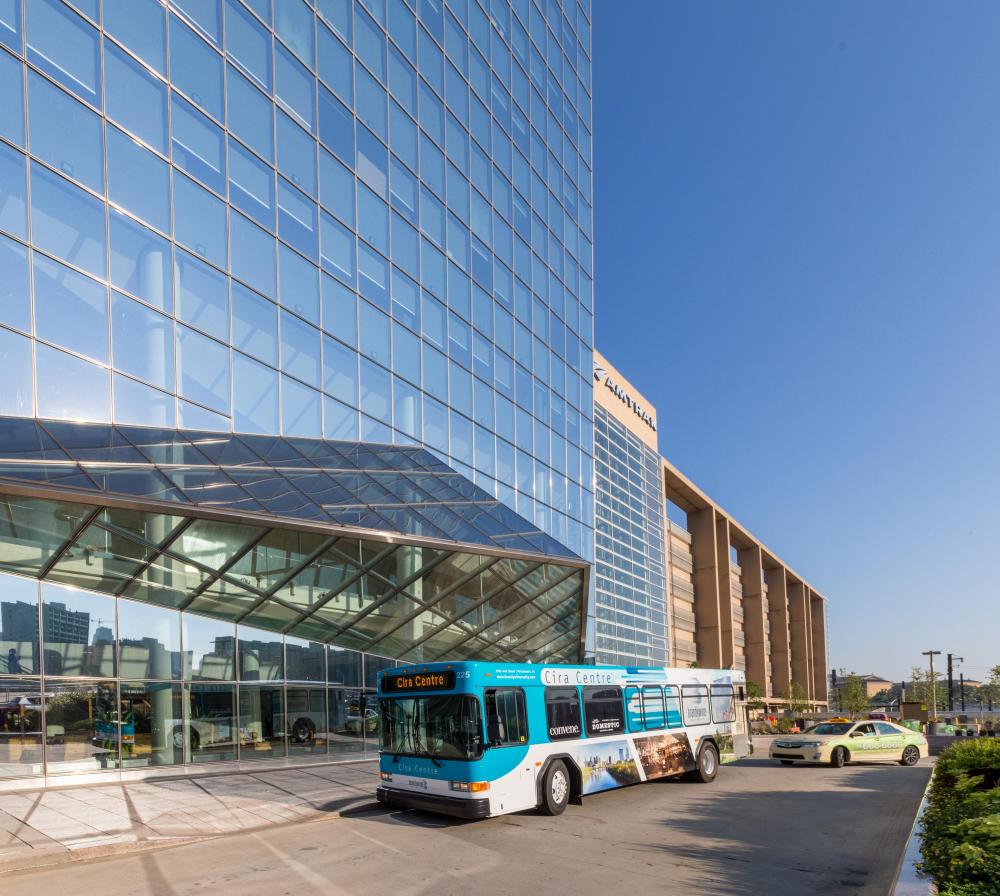 Location
Philadelphia
Adjacent to Amtrak's 30th Street Station, providing shorter commutes and more efficient business travel.
1 Hour to NYC and 15 minutes to PHL Airport via rail.
Convergence of SEPTA/NJT rail and SEPTA subway, bus, and trolley.
Conveniently situated at I-76 exit ramp for easier vehicular commuting.
Attached to a 1,500 space parking garage.
Ideally located for young urban employee base, with access to public transit, short bicycle- friendly commuting (ample bicycle parking and storage facilities), and rich amenity base.
Access to 56,000 students at four (4) universities (e.g. Wharton School)
Opportunities for academic collaboration with world class academic and research institutions.
2929 Arch Street
Philadelphia, PA 19104

Amenities
B+labs powered by the Pennsylvania Biotechnology Center – a state-of-the-art Life Science Incubator with in-house conference facilities
Continuous round trip shuttle service (to and from Center City)
Garces Trading Company - restaurant and bar
Cira Fitness Center - new facility with wellness studio, free weights and cardio machines, and locker rooms
Cyto – first-class operated collaboration, conferencing, and event center
Newly-built tenant touchdown space on the lobby level
Cira Shoppe – sundry shop
 
Retail & Restaurants
Greenspace
Fitness
Conference Room
Public Transit
Property Status
operating
Total Building Square Feet
730,187 Sq. Ft.
Total Available Square Feet
90,703 Sq. Ft.
Typical Floor Size
27,000 Sq. Ft.
Certifications
We understand the profound impact that buildings have on people and the environment. That's why our properties are designed to leading healthy and sustainable building standards, delivering a multi-dimensional approach to wellness through a mix of enhanced air and water quality, inspired outdoor spaces, state-of-the-art building and mechanical systems, and more.