A dynamic, transit-oriented, mixed-use community
The Upside of Everything
Bringing together ease of commute, sophisticated living, and seven parks with access to 23 miles of trails, Uptown ATX is the place to work, live, play, shop, and dine within Austin's most forward thinking corridor. The 66 acre mixed-use community features 3.2 million SF of smart workspace, vibrant residential, and locally inspired retail, plus its own dedicated MetroRail stop. Here, quality of life is paramount, creating an environment for people to thrive in business and in life.
The Vision
Known for decades as "The IBM Campus," Uptown ATX has been an integral part of Austin's growth into a dynamic technology hub. Now, we envision a bright future for the 66-acre site, transforming the campus into a mixed-use community made up of work space, multifamily units, retail and hospitality, and a brand-new Rail station. Situated between the Charles Schwab campus and The Domain, Uptown ATX will serve as a talent magnet for organizations, a cultural and entertainment district for the community, and a vibrant place for all Austinites to share.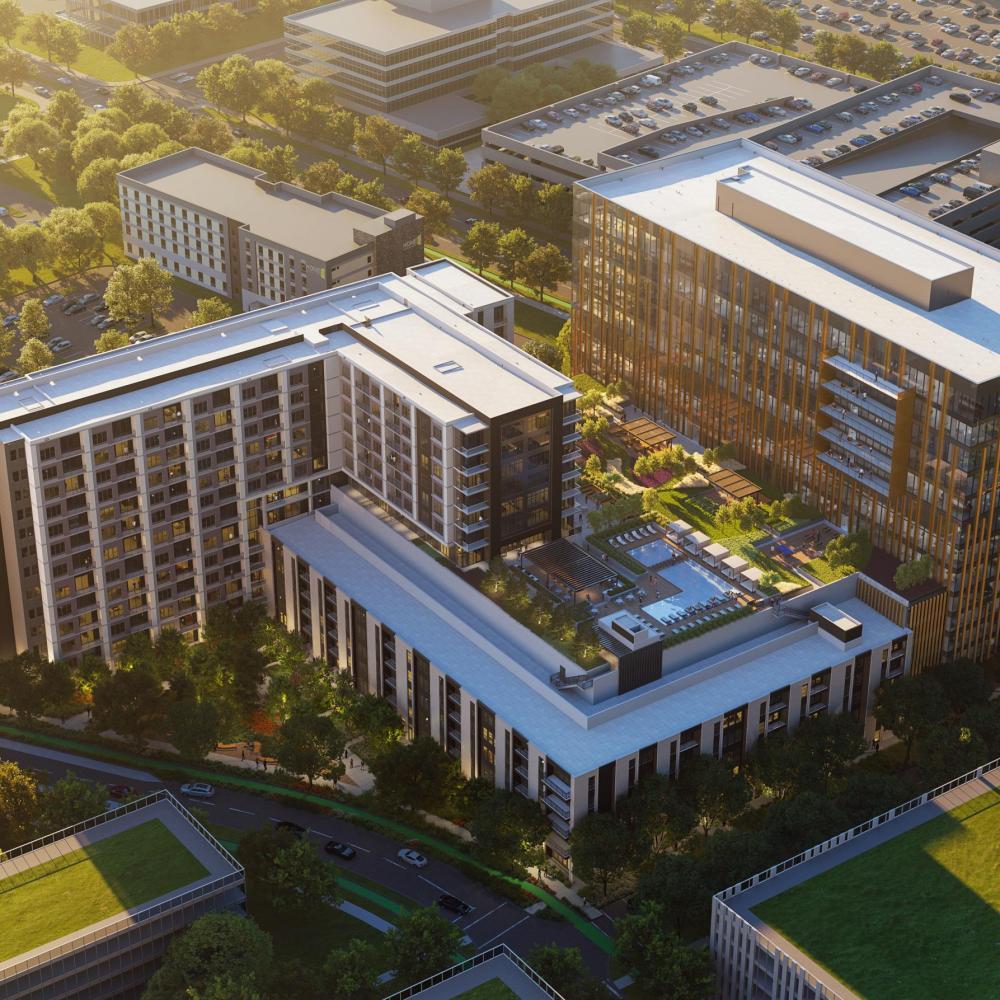 Block A
This 14-story office tower is comprised of 1 level of below-grade parking, lobby and retail level, 6 above-grade parking garage levels, and 8 office levels totaling 363,000 rentable square feet. The office tower's strong massing with dynamic projections and bold use of color will make it an easily recognizable and iconic piece of architecture on Burnet Road. The multifamily component is made up of 68 units in a 5-story structure surrounding the parking structure and 273 units within a 13-story concrete and glass tower. A showcase amenity deck serving both the office and multifamily components of the project and includes a pool, fitness center, outdoor TVs, and gathering spaces. A pocket park on the eastern edge of the site provides a close greenspace that residents and employees can enjoy.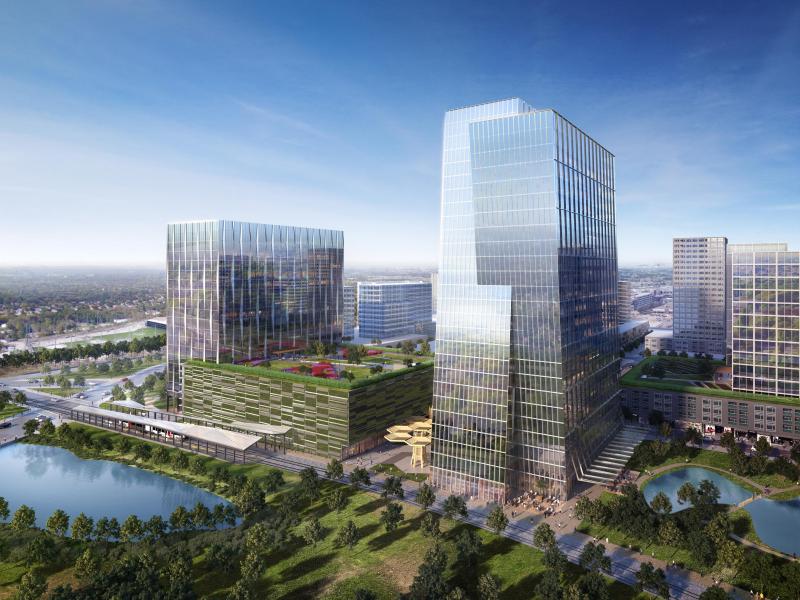 Block L
Block L occupies a landmark location at the symbolic terminus of Uptown Boulevard at the
new transit stop. Consisting of two high-rise office buildings, one above-grade parking garage, and another large below-grade parking garage connecting all the buildings, the SkyRise project will deliver roughly 1.3 million gross square feet of office space.
Each tower's massing and architectural expression seeks to optimize views from the workplace and respond to the broader context. In addition to the two office towers, three large parks and gathering plazas have been woven into the urban terrain with special attention to the pedestrian experience, incorporating active street level retail uses, generous shaded canopies and trellises, native plantings and trees, and multiple active outdoor areas.
Block F
Both phases in the Block F will be podium style with 5 levels of multifamily residences over 2 levels of garage, and including a large shared elevated amenity and pool deck. The site will also feature a lush park on the southeast corner.